You no longer have to struggle and fight with concrete every time you need to cut into it.
With tools like concrete saws, you can effortlessly repair, replace or cut concrete slabs, floors and blocks without labouring.
Methods Used in Concrete Cutting
There are two main methods used to cut into concrete. They include;
1. The Dry Sawing Method
This method of sawing is perfect for outdoor projects because there is the production of a lot of dust during the process.
If the blades used here are made of diamond, then there is no need to cool them using water.
2. The Wet Sawing Method
Unlike the dry sawing technique, this method is very mild to one's health and the surrounding, for it produces less dust.
The wet feature in this technique keeps the blades cool and durable.
Classifications of Concrete Saws According to Blades
1. The Masonry Blades
They are also known as abrasive corundum blades. Though affordable, these blades are suitable for cutting concrete that is short and shallow.
A quarter to half inches to be precise. For example, these blades can cut into stucco and asphalt.
Disadvantages
Time-consuming
Not durable
Only perfect for a few shallow cuts
2. The Diamond Blades
These blades are made of diamond and metal composites along their perimeters.
These blades come in two categories;
The dry cutting diamond blades
The wet cutting diamond blades
The Dry Cutting Diamond Blades
Most of them have serrated blades. The serrated feature helps in cooling the blades and ejection of dust. They are perfect for making deeper cuts.
The Wet Cutting Diamond Blades
The blades can come with a smooth or serrated perimeter. The moisture in them helps to reduce dust, cool and keep the blades lubricated.
Even though they require an outstanding saw that can both distribute water and be safe at the same time, these blades produce the cleanest and fastest cuts.
Concrete saws are further categorised according to the following features;
Types of Concrete Saws According to how They are Handled
In this category, the concrete saws are divided into two;
Small handheld
Big walk behind
1. Small-Handheld Concrete Saw
These types of concrete saws are usually small, lightweight and held in the hand.
They are portable, easy to work with. The only shortcoming is that they cut slowly and have less horsepower.
2. Big Walk-Behind Concrete Saw
Just as the name suggests l, these concrete saws are huge and heavy. This makes them less portable.
To function, they are held from behind. Unlike the smaller ones, these are super fast.
Types of Concrete Saws According to How They are powered
Here the concrete saws are further categorised into three;
1. The Gas-Powered Concrete Saws
These are the most used concrete saws because they are more powerful compared to others.
Advantages
Durable
They come with a dust containment feature
perfect for dry sawing method
2. The Electric-Powered Concrete Saws
Advantages
Perfect for indoor projects
Less noisy and easy to maintain
Produce less dust and fumes
Faster
3. The Battery-Powered Concrete Saws
These types of saws are normally cordless. They normally come with an extra electrical feature just in case the battery runs out during concrete cutting.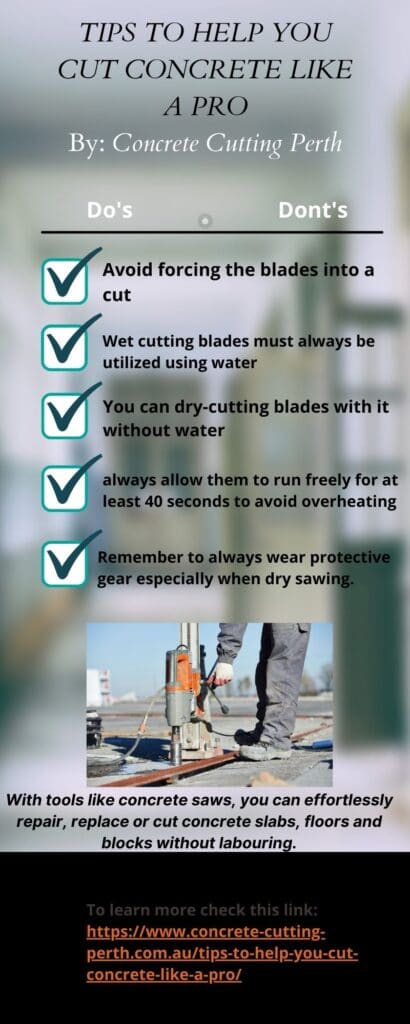 Conclusion: What are the Dos and Don'ts of Concrete Cutting Saws
Avoid forcing the blades into a cut
Wet cutting blades must always be utilized using water
You can dry-cutting blades with it without water
If you are using the dry cutting saws always allow them to run freely for at least 40 seconds to avoid overheating
Remember to always wear protective gear especially when dry sawing.