Without proper training, concrete cutting can be a dangerous job. Professional concrete cutters follow stringent safety procedures to keep themselves and others out of harm's way.
If you're considering DIY concrete cutting, you need to be just as safety-conscious. However, bear in mind that the experience of professional concrete cutters gives them a huge advantage when it comes to avoiding or eliminating potential hazards.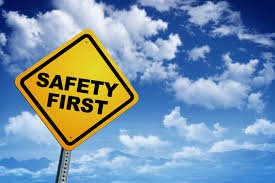 Hidden dangers when cutting concrete
One of the biggest challenges in concrete cutting is knowing exactly where and when it's safe do the work.
Building plans may not give you the whole picture, particularly if the property has undergone renovations since its initial construction. This poses the danger of slicing into live electrical lines, which can result in a fatal electric shock or cause a fire that may quickly spread.
Fracturing a water pipe may not be life-threatening but the resulting leakage can cause a lot of damage to the structure of a property as well as its contents. Hitting a gas pipe can also spell disaster, with the risk of sparking a fire and danger of suffocation from the fumes.
For reasons like these, it's essential to temporarily cut off all utilities supplying a property before you start any concrete cutting work.
Importance of using the right tools
Another potential hazard in concrete cutting is failing to use the right tools for the job, and amateurs can easily be tempted to cut costs by making do with whatever they have on hand. Adapting this approach will not only make the job more difficult but can also result in serious injury.
Professionals have a wide selection of concrete cutting apparatus for various applications, including water-cooled sawing and drilling machines to reduce heat from friction and the spread of dangerous airborne particles.
Personal protective clothing and gear
A further mistake by DIY enthusiasts is not wearing crucial protective gear for concrete cutting work. You'll never see a safety-conscious professional technician cutting or drilling into concrete without being kitted out in steel-toed footwear, heavy-duty gloves, ear protectors, goggles, and a mouth-and-nose mask.
Carelessness can cost dearly
Even if following concrete cutting safety advice like this, amateurs can still put themselves at serious risk simply by getting careless through tiredness or allowing themselves to become distracted.
Cutting concrete can be a major undertaking and it's critical to approach it in a systematic manner. If you're in any doubts about your capabilities to carry out concrete cutting efficiently and safely, it might be wise to call in the experts.